July 21, 2016
A list of standards on opioid prescriptions recently formalized by the B.C. College of Physicians and Surgeons is coming under fire from critics who say it's forcing those in chronic pain to seek drugs on the streets.
According to the report, the 15 standards and 11 guidelines are designed to acknowledge healthcare professionals' responsibility "to mitigate its contribution to the problem of prescription drug misuse, particularly the over-prescribing of opioids, sedatives and stimulants." 
Dr Ailve McNestry, the deputy registrar in charge of drug programs with the college, disputes the criticism arguing that medical regulatory authorities have, in the past,  been too flexible in their approach to prescribing.and have created a culture that overvalues the effects of opioid medication, making it difficult to give up that line of treatment.
"What goes through my mind is the sad fact that society does not seem to appreciate how little evidence there is for opioid therapy as an effective treatment for chronic non-cancer pain as a long term treatment," she said.
"They find it very difficult to give up opioid medication once it's been started, and we insist that physicians are empathetic to that. We tell physicians that it's inappropriate to abruptly stop opioid medications, or many other class' of medications, without tapering a patient slowly, in order to avoid symptoms of withdrawal and symptoms of psychological distress."
Although the standards are not new, McNestry says the principles have been reframed as a professional standard document in order to give them more weight. The document is then used as a reference when assessing the validity of a complaint made to the college and as a guideline on how to proceed. 
"The same principles, which have been around since 2010, haven't been successful in preventing the current state that we're in today, the health care emergency of opioid overdose deaths," said McNestry.
Prescription chill creating 'extreme situation'
But critics say they're going too far, pushing patients in pain to find the drugs they need without a prescription.
"We're sort of seeing an extreme situation where even people who have a legitimate need, their physicians are either concerned about disciplinary action from the college or, in some cases, physicians are actually reluctant to treat chronic pain patients," said Maria Hudspith, executive director of Pain B.C.
Chronic pain patient, Hugh Lampkin, who previously spoke with The Early Edition, said his doctors won't prescribe him pain medication, possibly because of past addiction issues.
"I did every test that the doctors ever wanted. I've always been straight up with the doctors and I get absolutely nothing for my pain. My medical file is just stamped 'chronic pain,' said Lampkin.
"If I want to get something I just go on the streets, it's quicker, easier. Morphine is basically getting very hard to find on the street, at least for me, so I have to go to something that's either as strong or stronger, which the next step is heroin. What's on the street right now isn't heroin, it's fentanyl."
Owen Williamson, president of the Pain Medicine Physicians of B.C. Society, said restrictions on opioid prescriptions is a problem, but more concerning to him is the lack of funding for and access to non-pharmacological pain treatment options, such as physical therapy and psychological support.
"The absence of these services is not an argument for prescribing opioids, but it does mean that physicians' hands are tied to using what's available," Williamson said.
With files from The Early Edition
To hear the full interview listen to the audio labelled College of Physicians and Surgeons defend opioid prescription standards.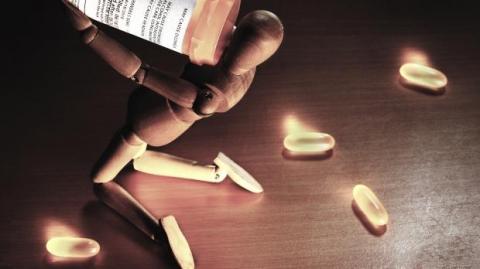 CBC News
Anna Dimoff