October 17, 2019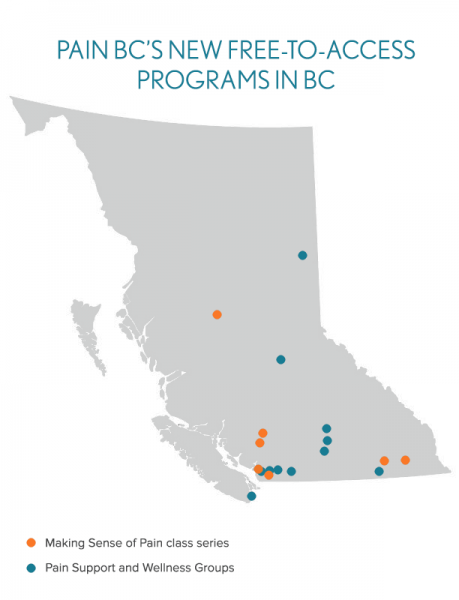 Pain BC has launched two new free-to-access programs this month for people living with pain in communities across BC. Pain support is particularly hard to access outside of urban centres, so we're thrilled to be able to provide these programs in locations around the province.
Our new Pain Support and Wellness Groups offer an opportunity for people living with chronic pain to meet in-person regularly to build a community of support while learning about pain, pain management and coping strategies. Groups meet twice a month, allowing people in pain to connect with one another, share their experiences, discuss self-management skills and take part in gentle movements a group. Groups are led by trained volunteer facilitators who live with pain themselves and have a passion for supporting their peers.
We are currently offering these groups in Chilliwack, Fort St. John, Kelowna, Maple Ridge, New Westminster, Salmon Arm, Quesnel, Trail, Vancouver, Vernon and Victoria, thanks to funding from ICBC's community grants program and the Lohn Foundation. We hope to expand the groups to new communities next year.
We encourage you to share information about the Pain Support and Wellness Groups with your networks so that we can ensure this vital support service reaches more people living with pain in the communities above. You can help spread the word by downloading and sharing this poster, or by ordering free print materials from our website.
We've also recently launched our Making Sense of Pain class series. We know that chronic pain often exists in conjunction with other conditions, such as poor mental health, substance use and other chronic conditions. We also know that people living with pain can be disproportionately impacted by trauma, violence, poverty, and homelessness – all of which can affect access to health care. Making Sense of Pain is designed to address these barriers by providing people experiencing marginalization with equal opportunities to learn about managing pain and improving well-being. The class series is being offered over a span of 8 weeks in October and November and each group is led by a trained facilitator. We are also offering a culturally relevant and safe version of this program for First Nations, Metis, and Inuit peoples, which are co-facilitated by an Indigenous Elder and a peer.
Both versions of the Making Sense of Pain class series are being offered in multiple communities throughout the province. A full list of locations and communities can be accessed here. If you or someone you know could benefit from this class series, we encourage you to contact your closest site to find out more. This program was made possible by funding from the Vancouver Foundation, the Ministry of Health (Patients as Partners) and the Overdose Emergency Response Centre.
Both programs will provide people living in pain with much-needed opportunities to find support and learn skills to better manage pain. We look forward to sharing updates as these programs continue to expand to new communities throughout our province. Stay tuned!