October 04, 2018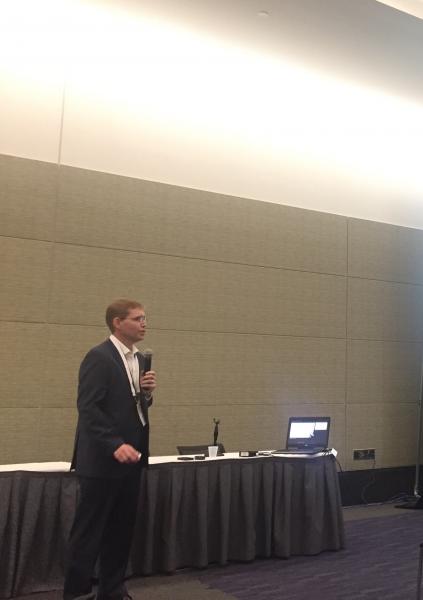 Recently I was invited to participate at the International Association for the Study of Pain (IASP) World Congress on Pain. IASP is an international organization bringing together scientists, clinicians, health-care providers, and policymakers to stimulate and support the study of pain and translates that knowledge into improved pain relief worldwide. IASP represents over 7,000 members worldwide and their biennial conference was held in Boston, Massachusetts from September 12-16.
I was privileged to be one of three people invited to attend and present a workshop on living with persistent pain. This was the first year IASP invited people with persistent pain to take part in their Congress activities. Although I knew my co-presenters, Joletta Belton and Pete Moore through social media, this was our first in-person meeting and it was like meeting old friends who hadn't seen one another in a long time.
My presentation, The Patient Voice, Self Management, and Resiliency: The Patient Perspective was based on 32 years of experiences following a near fatal car accident in 1986. In the workshop, I discussed how one can find the best ways to live with pain as we learned through scientific evidence. The underlying theme of my presentation was validation; having health care providers validate that the patient's pain is real. I attended both Joletta and Pete's presentation, which were amazing, as they offered insight into their lived experiences and how they have been able to move forward and find the best ways to live well despite pain. Overall, feedback on our presentations was overwhelmingly positive.
In addition to my workshop, I was also asked to be a member of IASP's newly formed Global Patient Alliance (Alliance). The Alliance is made up of representatives from Canada, the United States, the United Kingdom, Poland, and Finland, and consists of people who live with pain as well as patient advocacy groups. Pain BC is part of the Alliance due to the strength of the programs and services it provides to health care providers and people living with pain, as well as the work being done with respect to health systems change.
The purpose of the Alliance, as identified by IASP, is to identify the current state of global challenges around pain management, identify barriers to effective solutions, and offer manageable and achievable solutions that foster strategic collaboration among organizations and advocates at the global and national levels. This sounds daunting and is clearly a large list of deliverables, but I offer that at a foundational level, our task is to help identify how to bridge the gaps between people with pain and effective pain management solutions - a critical missing piece for many people throughout the world.
IASP's commitment to the Alliance was demonstrated through attendance at the inaugural meeting by Colleen Eubanks, IASP's Chief Operating Officer and Dr. Lars Arendt-Nielsen, IASP President. Dr. Arendt-Nielsen opened by stating his professional focus on the patient experience as a pain researcher and noted that while the 2018 World Congress on Pain was the first opportunity to integrate the patient experience in Congress activities, it is his goal to have this be a central theme at the 2020 World Congress in Amsterdam.
I came away from the Congress energized and committed to be part of something extremely important that has the potential to positively affect the lives of people around the world. I see IASP as fully committed to the work of the Alliance and I expect that a patient focus will be a central theme of the 2020 World Congress.
- Written by Keith Meldrum, a former Pain BC Board member who lives with chronic pain.