February 14, 2020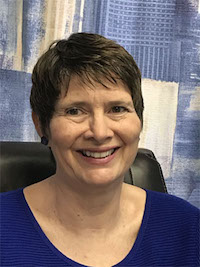 Dr. Judy Dercksen works as a general practitioner in Quesnel, BC. With a population of less than 30,000 people in the city and surrounding area, Quesnel doesn't have many of the specialized health services available in big cities.
Quesnel has no pain clinics, few mental health supports and, according to Dr. Dercksen, more than its fair share of people with pain, trauma and mental health challenges.
Which is why Dr. Dercksen turned to the BC ECHO for Chronic Pain for support to best serve her patients with chronic pain. Delivered by Pain BC with funding from SharedCare, ECHO is a free virtual learning community comprised of specialists and community health care providers who use instructive and case-based learning to build skills and confidence in providing care for complex pain cases. Through Pain BC's ECHO, health care providers can get the help and support they need to provide immediate care to patients with complex pain in underserved areas, such as rural and remote communities.
"My experience with it has been very positive," Dr. Dercksen says. "I love the ability to connect via video to get input from specialists on my most challenging cases."
Dr. Dercksen says the most valuable part of participating in the ECHO is the opportunity to present a case, verbally giving a detailed account of an anonymous patient's relevant clinical information to solicit feedback and advice.
"The advice I received was detailed and thoughtful," Dr. Dercksen says. "The team was very knowledgeable and supportive, which made it a very valuable experience."
Second to the case-specific support, Dr. Dercksen also values the collegial support of the ECHO clinical hub team and other BC health care providers in attendance.
"It's very rewarding to hear others' stories," Dr. Dercksen says. "It's wonderful to see that you're not alone and there are so many people who want to help. I really value the shared experiences and camaraderie."
ECHO is free for all BC health care providers and physician participants receive CME credits for attending. It is delivered once a month in a 2-hour online session. Upcoming topics include:
March 17, 2020: Sleep disorders and pain
April 21, 2020: Complex Regional Pain Disorder
May 19, 2020: Screening for psychiatric and psychosocial co-morbidities
June 16, 2020: Providing trauma-informed care
Find out more and register at www.painbc.ca/ECHO.