March 23, 2021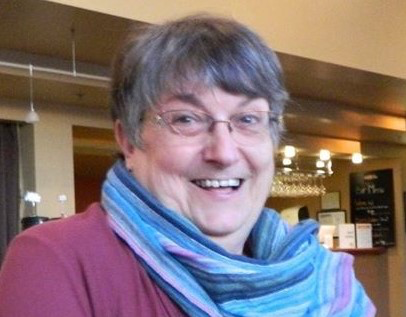 My first contact with Pain BC was through an advertisement on Facebook. In the past, I had spent many years working with clients with disabilities until I became disabled myself. I have experienced chronic pain almost my whole life and am now 73. As a child I would wake up screaming from pain; in those days they called it growing pains.
I have been a volunteer facilitator for the Pain Support and Wellness Groups since they first launched in 2019. The initial training provided by Pain BC was excellent and I enjoy the ongoing meetings that allow me to connect with other facilitators throughout the province. I really enjoy spending time with like-minded people in person or online.
COVID-19 has certainly showed us how we can adapt. The original Pain Support and Wellness Group meetings were held in person, but now with the online Zoom meetings we are reaching people who are really homebound and could not make it to in-person meetings.
As a volunteer facilitator, I feel validated and that I have purpose in my life. I have made many friends with my co-facilitators and have made connections with Pain BC staff as well. I think I am probably the oldest of the facilitators and feel I have a wealth of knowledge to share. I love holding group meetings online as we never know who will show up. People have so much to share and everyone's story is different, but the one thing we have in common is chronic pain.
It is heartwarming to hear group participants say they are grateful we understand their pain. Many are struggling alone or have families who do not understand pain and tell them to get over it. They often find it difficult to express how they feel and how tired they are with the struggle.
People with pain never know how they are going to feel from one day to the next or how much energy they will have to accomplish tasks. We spend so much time dealing with medical appointments; friends may disappear over time when you often cancel plans due to a lack of energy or too much pain.
The loneliness can be all too real, which is why I find the support groups so helpful.
- Laurel, Pain Support and Wellness Group facilitator