January 14, 2021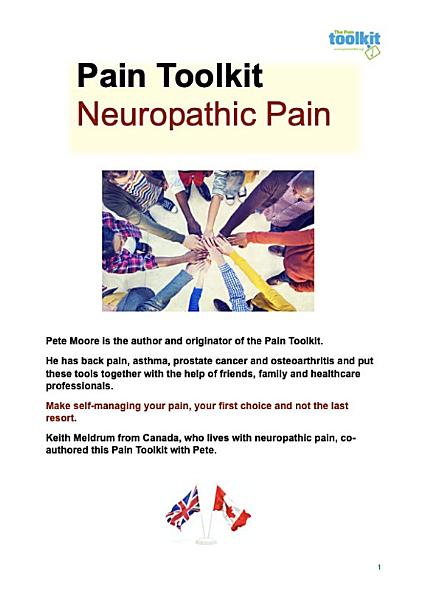 Keith Meldrum and Pete Moore are patient advocates living with chronic pain who have teamed up to create a new Pain Toolkit for Neuropathic Pain. The new resource is specifically designed to support people living with neuropathic pain with self-management tips and recommendations. It is based on an earlier Pain Toolkit, created by Pete in 2001 as a more general resource to learn how to self-manage pain.
In addition to supporting people who live with neuropathic pain, the Pain Toolkit for Neuropathic Pain is also designed to help health care professionals initiate and guide self-management conversations with patients.
"After hearing Keith share his experience with neuropathic pain, I realized there was a need for a neuropathic-specific Pain Toolkit as some of the information and self-management recommendations are different from what's outlined in the main version of the Toolkit," Pete says.
"I knew the best way to develop the new Pain Toolkit for Neuropathic Pain would be in collaboration with someone who lives with and self-manages neuropathic pain and, of course, the first person I thought of was Keith," Pete says. "It's a true collaboration between two pain self-managers from two different countries across the world."
Pete lives in the UK and Keith lives in British Columbia, Canada. The pair are generously donating proceeds from all Canadian sales of the toolkit to Pain BC because they value Pain BC's mission to enhance the well-being of all people living with pain.
"Pain BC is well known and recognized as the leading registered charity in Canada for supporting and educating people living with persistent pain and health care providers on effective pain self-management," Keith says. "Pain BC's goals fully align with the focus and purpose of the Pain Toolkit for Neuropathic Pain."
The Pain Toolkit for Neuropathic Pain is available to download for $11.99 via Apple's App Store and Google Play.
We deeply appreciate the generosity and commitment of advocates like Keith and Pete to help advance our vision – a future where no one is alone with pain.  Learn more about how you, too, can help us transform the way pain is recognized and treated in BC and beyond at https://painbc.ca/donate.