March 23, 2020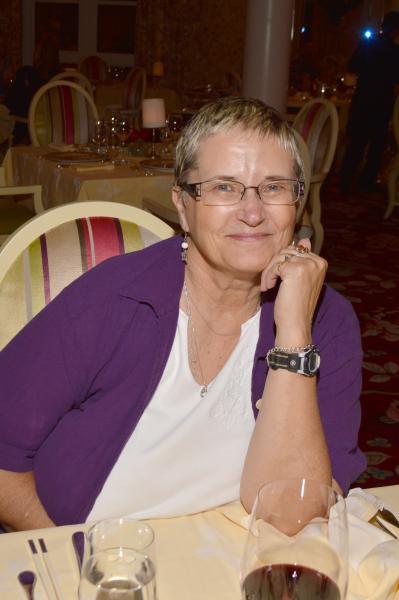 Bev Evanchu is a chartered professional accountant (CPA) and retired instructor from a local college in Cranbrook who was diagnosed with Complex Regional Pain Syndrome (CRPS) in 2002 and has lived with debilitating pain for nearly two decades following an accident with her arm. Despite having a limited income, Bev is a regular donor to Pain BC because she deeply values the organization's work to improve the lives of people with pain.
"Throughout all of the years I've received treatment for pain, there haven't been many health care workers who knew or even believed in what I had," Bev says. "So, I donate to Pain BC to support pain education for health care providers. Plus, I want to help other people living with pain learn how to cope and manage [through Pain BC's self-management tools and resources]."
Bev lives with daily, full-body pain due to CRPS and lost her husband to cancer three years ago. "My husband used to be my caregiver," she says. "Losing him makes life hard, but I'm still here."
"There's not a day, an hour or minute that goes by where I'm not in pain of one sort or another," Bev says. "I can be put into a pain flare-up by a gentle breeze or barometric pressure change. I can feel a storm coming from 18 miles away. Stress, fireworks, all sorts of things can send me into a flare-up."
Despite the daily hardships, Bev finds comfort in getting outside in nature, going on trips in her fifth wheel camper when she can, and spending time with her dog. "My 13-year old golden retriever keeps me sane and keeps me going. She's my therapy dog," Bev says. She also enjoys visiting with her two daughters and their husbands when holidays and their work schedules allow.
Bev hopes to bring more awareness to chronic pain through her ongoing commitment to Pain BC. "Pain is real. It hurts. And sometimes there's no escaping it," she says. "But it's comforting to know organizations like Pain BC are here to help. Whether you have pain yourself or know someone who does, Pain BC is a great organization to give to because you know your donation will make a meaningful difference."
Donors like Bev are the driving force behind Pain BC's work towards its vision of a future where no one is alone with pain. Find out more about becoming Pain BC donor today.