The pain and disability caused by musculoskeletal conditions result in substantial loss of quality of life, accounting for 21% of the total years lived with disability worldwide. This has considerable impact on healthcare systems; in the UK 1 in 5 people consult their primary care providers each year for a musculoskeletal condition, and in Canada and Sweden musculoskeletal conditions account for 20-22% of all healthcare utilization. The most affected groups are those of working age, people with musculoskeletal conditions are less likely to be in work than people without health conditions, and more likely to retire early. Therefore we need to provide appropriate support to those working with musculoskeletal conditions.​
This webinar will discuss:
The impact of musculoskeletal pain on the working age population
The value of working despite musculoskeletal pain
An overview of findings from a randomized controlled trial comparing a brief, early intervention to support people working with pain through best current care practices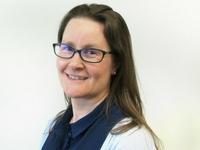 Gwenllian Wynne-Jones, PhD
Dr. Gwenllian Wynne-Jones initially trained as a nurse. Her PhD research focused on the epidemiology of pain (specifically examining the role of trauma in the new onset of widespread pain). She joined the Primary Care Centre Versus Arthritis at Keele University in 2005 as a Research Associate and then as the UK's National Institute for Health Research [NIHR] Research Fellow and NIHR Clinical Trials Fellow. Gwen's research activities focus on examining the impact of health on work and how this can best be managed. She is particularly interested in the prognosis and management of musculoskeletal pain and other conditions commonly seen in primary care such as mild mental health disorders.
Register Now

This webinar is co-sponsored by WWDPI and Pain BC.